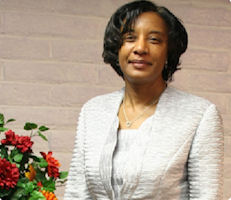 First Lady Rosalind Buckhanan
Rosalind G. Chelf-Buckhanan is the daughter of Glen E. Chelf, Sr. and Lorraine Chelf of Albuquerque, New Mexico. Her biological mother, Mrs. Sharon E. Collins is deceased. She was born September 20, 1961 in Albuquerque, New Mexico, where she attended public schools.

Upon graduation, she was employed with US West Communications for 15 and a half years before resigning her position to join her husband in full time ministry in Sierra Vista, Arizona. She is currently with BBVA Compass Bank where she is the Assistant Manager. She is also currently attending the University of Phoenix attaining a degree in Business Management.

She is married to the Rev. Shawn L. Buckhanan I, Senior Pastor of the St. Paul Missionary Baptist Church for 28 years. She recalls being with him during his licensing ceremony and ordination service. God has kept him faithful to the call that He has placed on his life. Together they have two sons, Shawn LaDon II, age 24 and Solomon LaMar, age 21, along with Solomon's wife, her daughter-in-law Marina, age 20.

She is very active in her church, St. Paul Missionary Baptist Church, where she currently serves as the Women's Ministry Director. She is the immediate past Women's President of the Southern Arizona Missionary Baptist District Association, and an instructor and speaker for the National Baptist Convention, USA, Inc. Laymen's Movement Wives and Women Supporters.

Sis. Buckhanan is a child of the most High God. She loves the Lord with all heart, mind, and soul. Her favorite scripture is Lamentations 3:23 and 24, "His mercies are new every morning", and her favorite songs are "There's no one greater than you Lord", and "Great is thy faithfulness".

"God has been most gracious and kind to me..."

God Bless,

Biography
(.doc)
Download the document to your computer and then open it.
Do not open on this webpage.